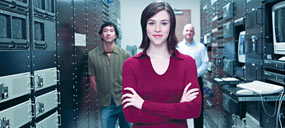 Why Choose Us?
OUTSOURCING
Most of the service providers do not have an adequately qualified training workforce to impart the required training, which leaves little option for them than to outsource their needs.
Outsourcing one's entire training needs to a specialized training service provider is the best option that is available to the service providers today.
There are several reasons to outsource the training part to a third-party provider like Telecom Training Associates. This not only frees you from the extra burden of developing an in-house training team but also allows you to concentrate on operational aspects. The service provider, by outsourcing, can establish a long-term relationship with training providers to gain a competitive edge in emerging technologies.
This can also help service providers off load non-core functions. You do not need to worry about hiring the right training staff; you can save on capital expenditure; and you can do away with the need to create a training infrastructure.
TRAINING OUTSOURCING TIPS
You should look for:
Training Experience - The amount of prior experience that the training company has. Telecom Training Associates has a full-time experienced faculty with rich practical experience.
Course Content - Telecom Training Associates has a comprehensive and quality training content available at its disposal. Our study material forms an important part of the training program and serves as a reference source once the training is over. Our instructors are among the top in their respective areas and our training material incorporates the latest technologies and applications.
Customization - We have the wherewithall to customize the training program to suit your product or service.
Hands-on - This is one of our priorities. Since there are few companies that actually offer hands-on sessions, we provide actual equipment in many of our courses.
On-site Training - This is important due to two reasons. First, it takes care of the hands-on training needs. Second, disruptions in business are minimized with employees remaining on site while undergoing training.
Cost - Going for a cheaper alternative may sometimes prove counterproductive. At the same time, paying a higher cost does not guarantee a quality training program. Many of our clients have told us that we are cost-effective based on the benefits that our training provides compared to other training they have received.
Instructors' Profile - Our trainers are the ones who make the difference between the success and failure of a training program. Our instructors are the best in their areas of specialization and have the requisite technical expertise. They are able to clearly explain the underlying concepts and supplement them with a practical understanding of telecommunications technologies and services. All our instructors are certified "CTT+ Certified Professionals" by the CompTIA organization.
Commitment - We are committed to training. Training is an ongoing exercise and our services are available as and when required. Our hours are flexible to meet your needs and we provide a long-term relationship with you since training is not a one-time solution.